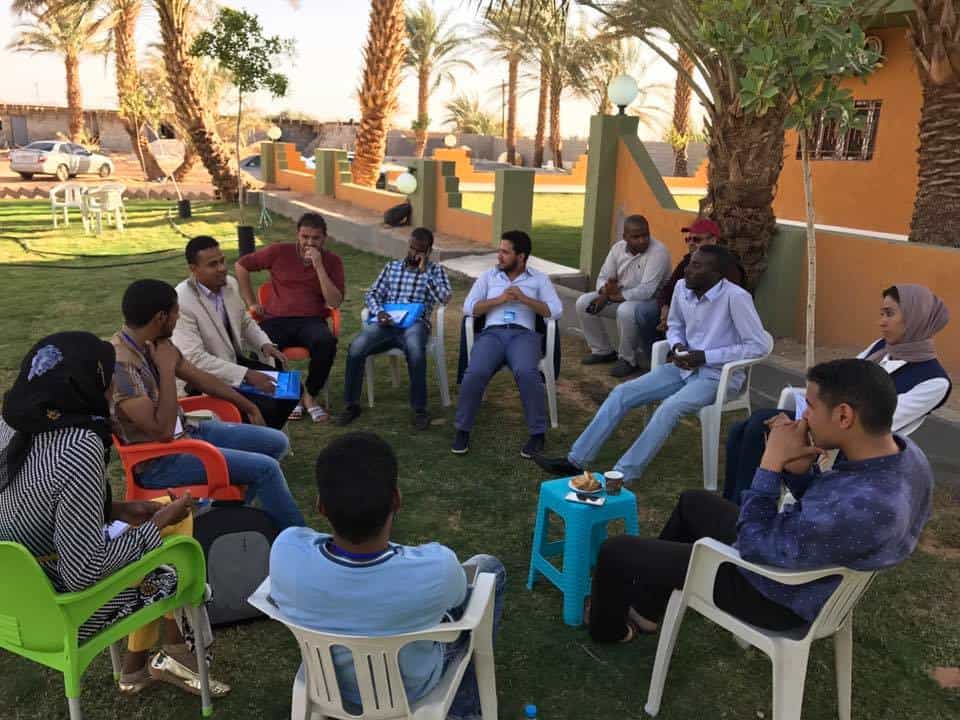 "Strange optimism" in times of conflict
Huna Libya is an increasingly popular online platform in the country, targeting a young audience it aims to reflect a wide spectrum of beliefs and backgrounds. Regular online surveys are an important element in creating visually appealing content that sparks discussion. Participation in these surveys has jumped tenfold in the last six months – with a particularly noticeable increase in the number of women responding. In a recent survey, 71% of those taking part expressed the desire to leave the country. But project coordinator Mohammed Alnaas still feels "strangely optimistic" about his country's future?
Since the fall of Gaddafi in 2011, two rivalling, and largely ineffective, governments, along with numerous armed militias, have divided up Libya. With the break out of the conflicts in 2014, the capital Tripoli is also largely split.
"At any time, conflict can break out somewhere in the city. And then your life can be halted for weeks," says Mohammed Alnaas, who graduated as an electrical engineer before deciding to follow his passion for social media and creative writing. He has been the project coordinator for Huna Libya since January 2018.
"Security remains the biggest challenge. Also, you usually can't speak your own mind. Many Islamic militias have taken hold in the city." Alnaas knows of what he speaks. In 2017, he had to flee to Tunis for four months when a book, Sun on Closed Windows, to which he contributed a short story, became a target for hate speech and threats.
Perhaps predictably, a recent survey by Huna Libya showed that 71% of young people want to migrate. However, less than half of that number has done any actual planning, and a similar number say they want to return when the situation improves. "Actually, many young people express the desire to stay and help build a better future Libya."
"So you could say I am strangely optimistic," Alnaas laughs. "In a way I have to be: this is where my friends and family live. And while it's very conservative, if there was rule of law no one would attack you. But there is no rule of law. And the economic crisis is also getting a lot harder on people. But if it were a normal situation with no war, it would be a fine place to live."
Citizens' Voice
As a youth platform for blogging and new media, Huna Libya is part of a larger network of Citizens' Voice projects supported by RNW Media in restrictive settings around the world. The aim: bringing together young people online from all segments of society to allow them to discuss subjects that are important to them in an open and safe manner.
Working with a local team, RNW Media created and launched the Huna Libya website in October 2018. It has already amassed 245,000 followers on Facebook group – accounting for 10 percent of young Facebook users in Libya.
"A few key lessons from other Citizens' Voice projects have been essential for Huna Libya," says Alnaas. "To be as neutral as possible when it comes to facilitating discussions between young people from different point of views. To attract younger generations by using content that appeals to them – like cartoons and animations. To let the data drive the content and change-making – using surveys to collect young people's thoughts on different issues and to give them a collective voice."
Initial surveys showed that Libyan youth are particularly hungry for aspirational stories of young people who are dealing with the economic crisis by setting up their own businesses. For example, one video features a young woman who set up her own fashion label. Another popular video tells the story of a young man who fixes motorbikes – but also makes cheesecakes to sell to local cafes. "Yes, it's a story about entrepreneurship. But it also breaks the stereotype of what Libyan guys usually do," says Alnaas.
Expanding openness
Over the three surveys that have taken place so far in 2018, the number of participants jumped from 700 to 6,000.  Alnaas attributes this success to the platform's stories and strong visuals – along with a marketing plan targeting users of larger Libyan websites. "It's an amazing jump: almost 10 times more. It makes the information more relevant and accurate," says Alnaas. "It's also interesting to note that the latest survey, on women's role in the workplace, was answered for the first time by a female majority." This is an important step as women are generally under-represented on-line, particularly in the global south, and it's a priority for RNW Media to increase young women's representation and participation across all its projects.
"In general, our surveys show some open mindedness in Libyan youth – especially in ages 15 to 25," says Alnaas. "But they also reflect difficulties: especially when it comes to whether women should have an independent income. Most Libyan women say women should be able to do anything – even be prime minister. But the men tend not to agree with this. So the conservative state of mind still exists."
"I think the main thing that Huna Libya has established is that Libyan youth can be pretty open-minded if given a chance. Many of my friends are pretty conservative but still accept me for who I am. I also have more leftwing friends. A space of acceptance really exists. So we have to expand and improve this space, and make it a safe space, so they can continue this dialogue."