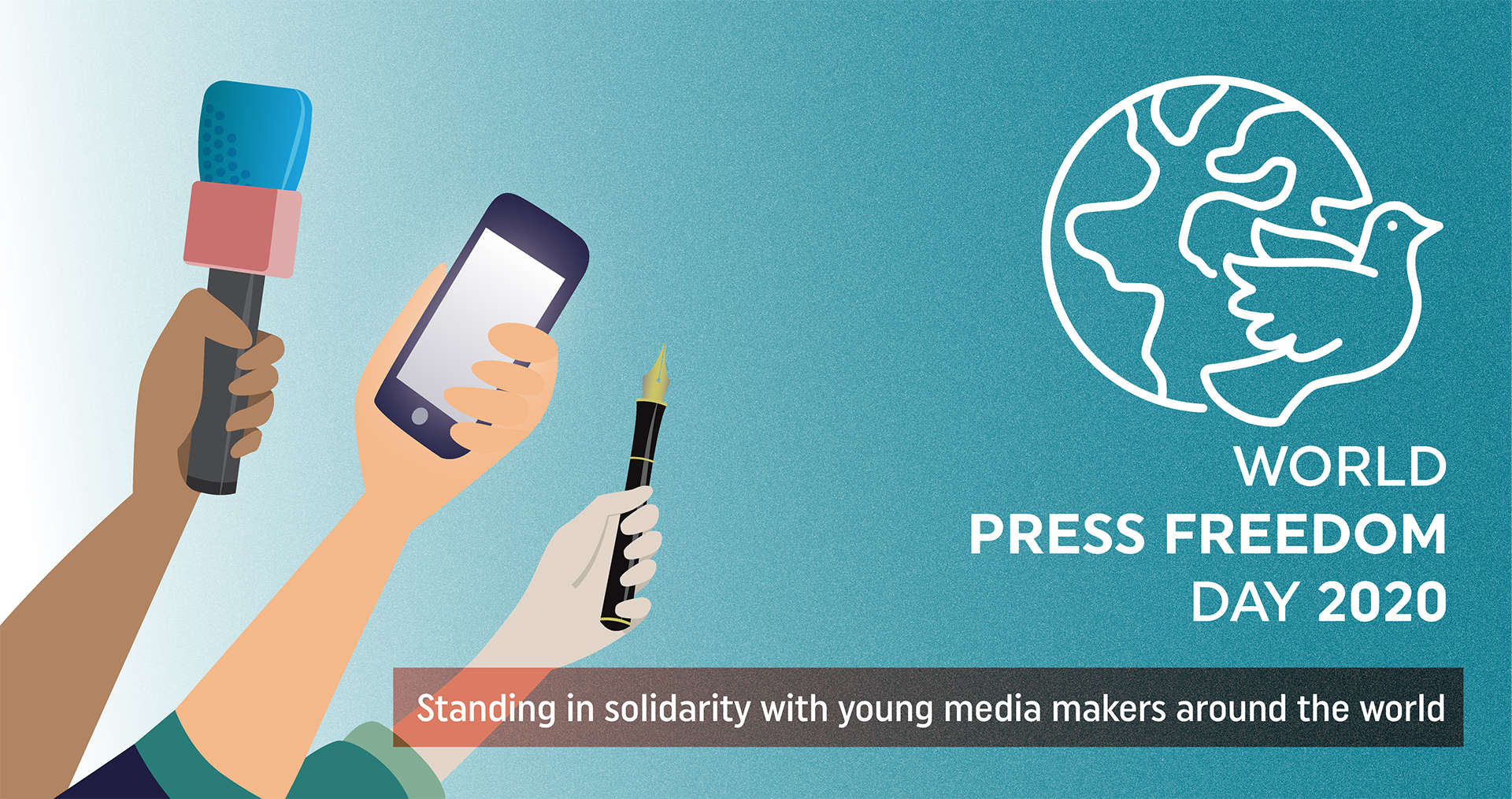 #Voices4freedom
3 May, World Press Freedom Day, we at RNW Media are calling on decision-makers, citizens and young people to stand in solidarity with young media-makers and defend freedom of expression. We are launching a series of activities that will continue throughout the rest of the year to raise awareness and work with you to develop new ideas and solutions. Look out for our hashtag #Voices4freedom to get involved.
The press is under threat and the world is becoming an increasingly dangerous place for journalists. Free and independent media is a cornerstone of democracy and good political governance. It is also an essential tool for our basic human right to freedom of expression and information. The pressure on non-traditional media is relentless as restrictive governments attempt to shut-down online criticism and debate.
Online safe spaces
At RNW Media we build digital communities of young people in fragile settings where rights are under pressure. These are progressive and safe civic spaces where young people can access and share reliable, trusted information and diverse points of view on sensitive topics and on their needs and aspirations. Our content is created by civil society collectives of young media-makers, some trained as professional journalists, some self-taught.
Excluded
The young bloggers, vloggers, visual artists and online media producers who drive RNW Media's work do not easily fall within the traditional definition of journalism and are therefore often excluded from the rights and protections offered by policy frameworks and the international community. Their voices are not well represented in international settings either.
Bringing youth to the table
RNW Media wants to bring these voices out and to the table. Therefore, on 3 May we are launching a survey in our network of media-makers asking them to tell us about their experiences of producing and disseminating content in difficult settings, and how they think the international community can contribute to their freedom of expression and a free, digital, press. The results of the survey will be used to create a statement reflecting the needs and concerns of digital media-makers. That statement will be launched at the World Press Freedom Conference 2020 in October and used to advocate with politicians and decision-makers to turn the tide on the repression of media.
Press Freedom Conference 2020
The World Press Freedom Conference is a large-scale event in The Hague organised by UNESCO and The Netherlands Ministry of Foreign Affairs. It brings together journalists and media professionals from around the world. It was originally planned to take place in the run up to 3 May but is now rescheduled to October due to the Coronavirus pandemic. RNW Media, like many other organisations, is now marking World Press Freedom Day with a range of online activities.
Awareness and understanding
We are also aiming to create awareness and understanding amongst young people in the Netherlands of the importance of freedom of expression and of the danger many of their peers and young media-makers face in restrictive countries where speaking out is risky. With that aim in mind, our Media Training Center (RNTC) is creating a Massive Open Online Course on Freedom of Expression. This consists of a series of 8 videos and a number of assignments. The first animated video, which provides a sneak peek into the content of the online course, has been made available now to mark World Press Freedom Day. It was created by RNW Media working with Precode Films, a grass-roots production house with branches in Tbilisi, Georgia, and in Egypt and Turkey
The full course will be launched with the Netherlands Youth Commission of Unesco in October 2020 and is currently being created by RNTC based on the UN body's Freedom of Expression Toolkit: A Guide for Students. The English-language course is for students between 15 and 18 years old both in the Netherlands and abroad. Registrations will be open to the public on the RNTC website closer to the October launch date. For more information contact [email protected]
4Voices4Freedoms
RNW Media is also creating a series of videos, 4Voices4Freedoms, featuring colleagues in the Democratic Republic of Congo, Libya, Yemen and Mali talking about working as online media producers in difficult settings. The first video on DRC's 2019 internet shutdown around the time of the presidential election and the challenges it posed to free speech is already available.
Be sure and follow us on Twitter, Facebook and LinkedIn for regular updates on all our activities around freedom of expression and digital rights. We'll be using the hashtag #Voices4Freedom.