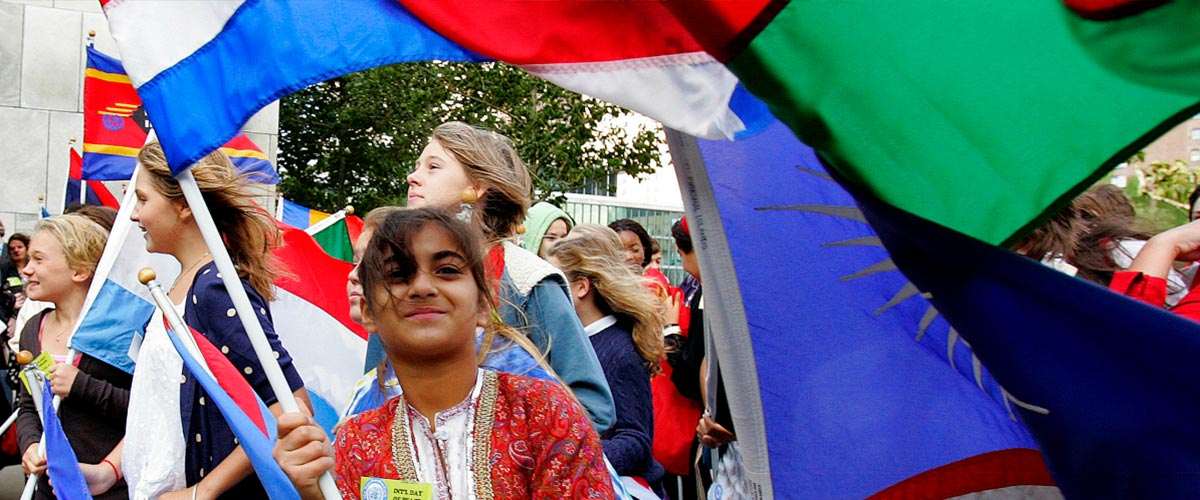 A conversation for all to attend
On the occasion of International Youth Day, 12 August, what better way to cherish diverse young voices than to bring them together and let them express what matters to them.
Young people make up more than 18% of the global population. This means 1.8 billion young voices from different backgrounds, belief systems and social contexts. These voices need to be brought together through 'inclusive discourse' so they can constructively stimulate positive changes in their societies. An 'us versus them' mentality can only stand in the way of creating this shared desired reality.
Our Citizens' Voice programme recently trained the content producers and moderators of our digital platforms in the Democratic Republic of Congo and Burundi on how to identify regionally-specific prejudices and address them. Thanks to the training our bloggers learned how to deconstruct prejudices in online texts, articles, media pieces or comments, and to respond to them effectively to reduce their occurrence.
Patrick Abega, is one of the bloggers of Habari RDC, our platform in the Democratic Republic of Congo. He is originally from Goma, but lives in Kinshasa. He recently attended the 'prejudice training' along with 74 other young Congolese from four different regions. We asked him about his opinion and if he found it useful.
"The other side"
Prejudice in Patrick's words, is "a false opinion that we make about people, believed to be true because it is repeated so many times and is widespread in the society."
A clear example of regional prejudices can be seen in the rivalry between Goma and Kinshasa, one eastern and the other western province of Congo. Patrick shares his experience: "coming from East Congo I face prejudices every day. People from Kinshasa call me 'Muswahili'. They stereotype me as being alcoholic and unfaithful. This makes it almost impossible for me to connect with anyone from the other side."
Emotional abuse and exclusion are the most common results of polarisation in communities: "I always try to behave responsibly when facing prejudices. But I am, by now, accustomed to a feeling of humiliation and rejection."
"By remaining silent we only drift apart"
Extreme polarisation tears up communities and even contributes to civil conflict. "It is important to make our very best effort to remove prejudices. In my country, communities clash because of false judgments, people die because of rootless blames, and some kill based on insensible beliefs. Only when it is too late, do they realise that prejudice was blinding them," explains Patrick.
The Citizens' Voice training focused on different stages in addressing prejudices: diagnosing a prejudice in oneself or in content peers produced, then experiencing confrontation and finally, eliminating prejudices. Our bloggers were surprised to find blind spots in their own way of thinking. But some found confrontation the most difficult.
"I came to the conclusion that insisting on our prejudices or not speaking out when we are a subject to them is not an option. By remaining silent, we only drift apart. It makes it more difficult for us to achieve our common goals."
"Now I'm fully ready to talk to people, prejudiced or not, I am willing to work with them despite our differences." Patrick takes pride in his openness and talks about his new insight: "I'd try to make my peers see the negative effect of spreading false beliefs in communities. Most of them will be willing to change when they find their blind spot."
"Inform young people to bring them together"
Platforms like Habari RDC help bring young people together in a safe digital space so they can learn about each other and their differences. We believe young people, once informed, can accept different viewpoints and engage in constructive dialogue.
"Congolese youth need more information about prejudices. Human beings are all raised with a set of beliefs, which are not necessarily always right. But that doesn't matter. What matters is to raise awareness about prejudiced thoughts, identify them and try to remove them," Patrick confirms. He appreciates having had the opportunity to receive the training; "…not all young Congolese have the same luck as me. Many feel lost because no one ever told them they can make better choices."
In some polarised settings access to independent and credible media is extremely limited. We need online platforms, like Habari RDC, to remain inclusive and reach out to inform young people. And building the capacity of media professionals is, therefore, crucial. With the right training it is possible to create sustainable and credible media channels that really represent the issues and opinions of young people.
For Patrick it's clear. "I think in order to reach a larger number of youth we must use inclusive channels and messages to raise awareness about wrong beliefs and spark conversations among communities so they can discuss and accept their differences. This is the only way to bring about positive change."