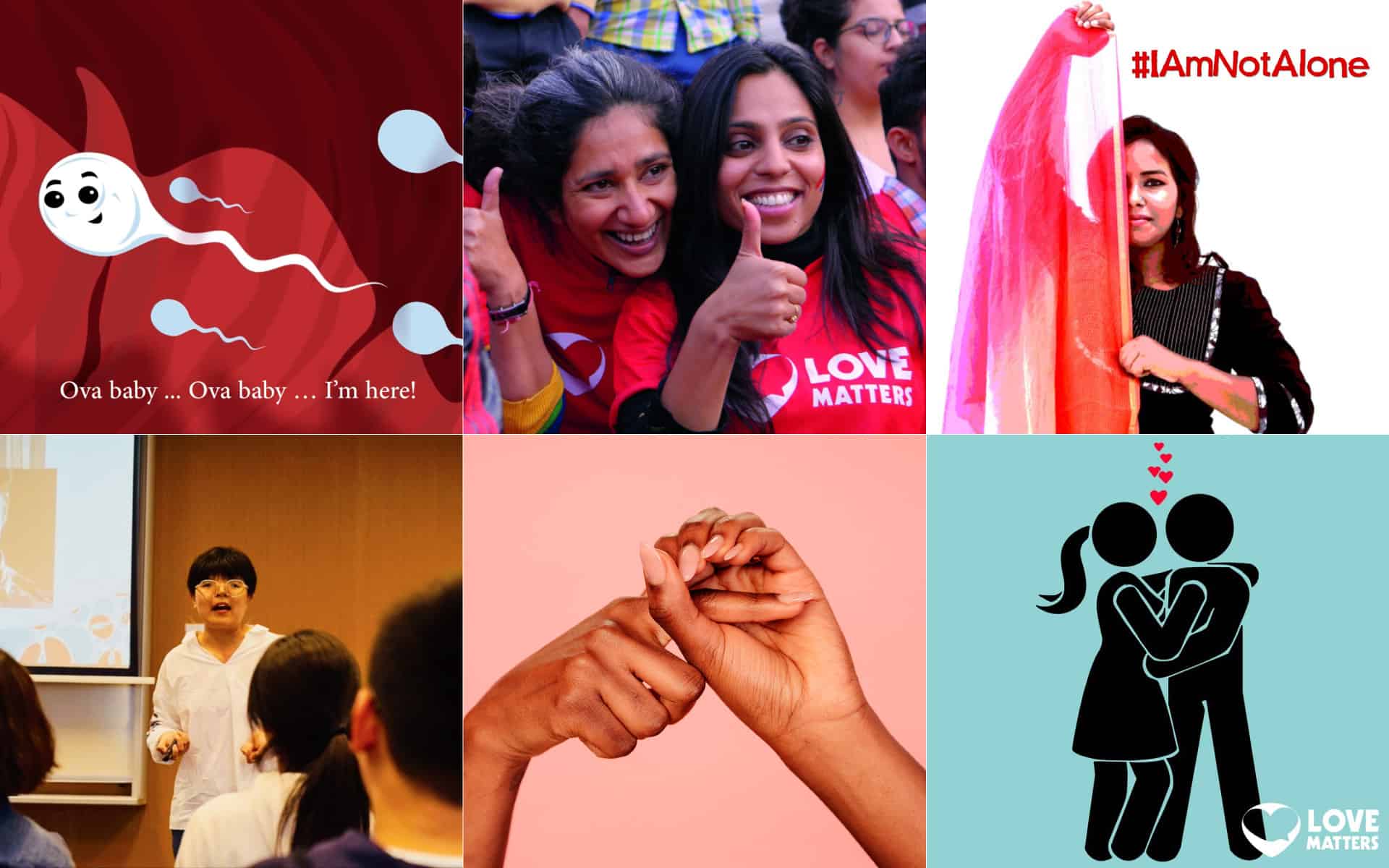 Campaigning and promoting pleasure – Love Matters in 2018
Open, honest and sex-positive, RNW Media's Love Matters programme is well-established as an innovative player in the field of sexual and reproductive health and rights (SRHR) for young people. With thriving platforms in five regions around the world, 2018 saw the Love Matters teams taking part in global forums and spreading the word about the unique Love Matters approach.  
Love Matters believes talking about pleasure is an invaluable tool in engaging young people – rather than the traditional SRHR approach focusing on avoiding disease and pregnancy. This pleasure-positive approach was to the fore when Love Matters took part in The International Conference on Family Planning 2018 in Rwanda. The team organised the Pleasure Dividend, a panel held in the main conference auditorium to talk about the role of pleasure in sex education and family planning. The session generated numerous online and offline conversations and a lot of positive feedback about the originality of the Love Matters' message.
Local teams going global
Love Matters also highlighted its global nature with the local teams hosting a total of seven sessions showcasing their recent online and offline interventions. Love Matters Arabic was among the few representatives from the Arab speaking region and the team impressed delegates with their innovative toolkit, designed for adolescent sex education; a first of its kind in Egypt
The conference was also an important opportunity to reach out to the local audience as Love Matters is soon moving into Rwanda. The preparation of communication materials in the local language was an effective tool in doing this. Planning is now underway to take the Love Matters pleasure-positive message to the world's largest conference on gender equality and health and the rights of women, Women Deliver in Canada in June.
Reaching out to Nigeria
Another important conference in 20i8 was the Regional Health Network (RHN) Annual Scientific Conference on Adolescent Sexual Reproductive Health and Rights in Kenya. The Love Matters Africa team presented its work to SRHR professionals from Kenya and Uganda and established important contacts with a range of organisations and individuals.
Another milestone for Love Matters Africa in 2018 was expanding its reach into Nigeria with special content created by Nigerian contributors, and the launch of the Love Matters Naija Facebook page.The page quickly proved a hit with young Nigerians, attracting almost 154,000 followers in 6 months.
Viral animation
Love Matters Arabic also strengthened its network in 2018, expanding its cooperation with the Association of Medical Students and organising an expert meeting with family planning and safe abortion experts in Egypt. A sexuality workshop was also organised for journalists and content creators in Egypt aimed at encouraging them to take a more open and progressive attitude towards the SRHR of young people.
The year ended on a high for the team when a campaign on promoting emergency contraception went viral. Centre-piece of the campaign was an animated film  showing a sperm and an egg rushing to get together knowing that the couple have not used any type of protection. They are unpleasantly surprised when they find out about the emergency contraception in place! Love Matters Arabic reached 3.7 million young people with this campaign, more than 10% of Egypt's youth population.
Pleasure online and offline
In India, the Love Matters team took their expertise offline, training youth peer educators in Bihar state on how to use a specially developed SRHR toolkit.  The toolkit consists of written content, podcasts and fun videos on issues taking a pleasure positive approach to issues ranging from menstrual hygiene and safe sex to love and attraction, and was created after an intensive process of meetings and focus group discussions with peer educators and local youth groups
Head of the India project, Vithika Yadav, also attracted attention as one of the stars of #FemalePleasure – a documentary looking at the barriers to female sexuality and women's sexual pleasure. Another 2018 highlight for Love Matters India was the campaign #IAmNotAlone marking   International Safe Abortion Day on September 28th. The campaign was geared towards building a support system for women who have had an abortion or are seeking an abortion and included a Virtual Reality (VR) film. The campaign was covered widely by India's media and generated many online conversations with the hashtag trending 5th nationwide on Twitter.
#LOVEISLOVE
The hashtag of the year for our Love Matters China team was '#LOVEISLOVE – a response to the announcement in April by Sina Weibo, of China's largest social media sites, that they would remove gay, pornographic and violent content during a three-month clean-up campaign. More than 100 accounts and 56,000 posts were rapidly removed, and Love Matters China decided to protest the decision, launching '#LOVEISLOVE'. Many gay followers posted photos with the hashtag, and there were also many posts by people saying they were not gay, but believed in speaking out in support of the rights of  LGBT Chinese. The hashtag rapidly generated 4.36 million's page view and 27,000 engagements. And after a weekend of massive online protest, Sina Weibo backtracked saying it would no longer target 'homosexual content' while still removing pornographic and violent posts.
Pioneering sustainability
The fifth Love Matters project, Hablemos de sexo y amor broke new ground in 2018 as the first Love Matters project to become independent. RNW Media is committed to ensuring the long-term sustainability of all its projects and began planning in 2017 to hand over our Spanish language Love Matters platform based in Mexico. The work of Hablemos is now being implemented via a well-established local SRHR organisation Mexico Vivo . RNW Media continues to refine the blueprint for sustainability pioneered by Hablemos and aims to eventually establish a network of independent partners who will remain part of the global Love Matters family.